2023-02-17
Fast. Comprehensive. Reliable.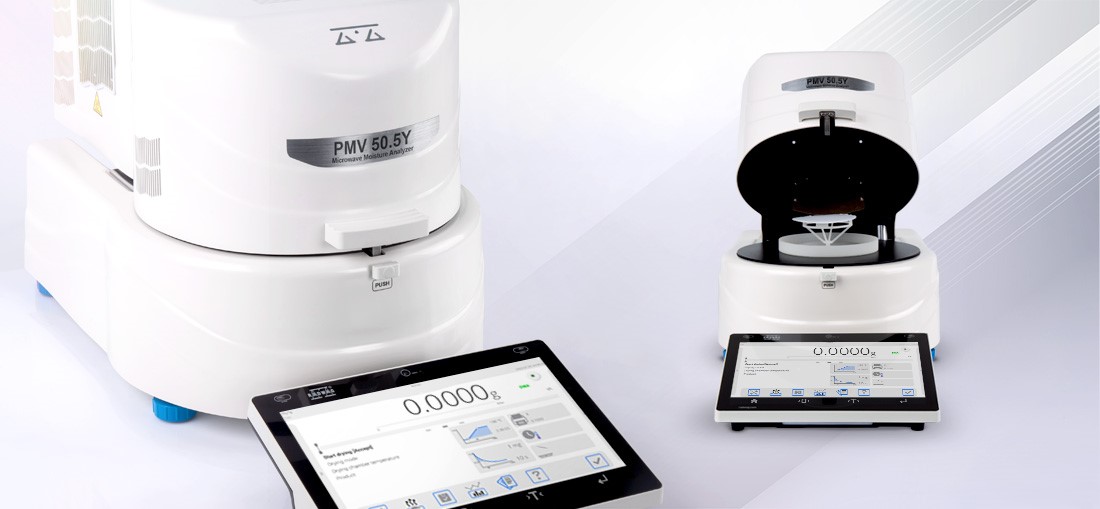 Extremely fast and accurate analysis, uniform heating of entire sample's volume, wide moisture range: 0,0001-100%, full compliance requirements, safety of the weighing process and ease of cleaning – you will find it all in RADWAG's PMV 50.5Y microwave moisture analyzer.
Drying Methods
In order to measure the moisture content of a sample, it must be dried first. The drying procedure can be carried out by:
convection drying method in laboratory,
IR radiation method,
microwave drying method.
The convection drying method is accurate and precise, but:
the cost of the workstation is high,
it must meet ISO, DIN or other standards,
takes up to 4 hours.
The IR radiation method is:
universal (allows analysis of products with different structures),
easy,
mobile in design (can be used both in the laboratory and on the production line),
but takes up to half an hour, while drying with the microwave method can be carried out in as little as 2 minutes.
For Example
We measured the water content of a ~1.4 g sample by convection drying, IR radiation (using an MA 50.X2 moisture analyzer) and microwave drying (using a PMV 50.5Y microwave moisture analyzer). The dry matter content was ~0.05%. The drying procedure using the convection drying method took 3 hours, the IR radiation method took ~7-8 minutes (7 min. 30 sec.), and the microwave drying method took ~2-3 minutes (2 min. 34 sec.).
Types of Samples Which Can Be Dried with the PMV 50.5Y
The PMV 50.5Y microwave moisture analyzer allows you to measure the moisture content of samples with high water content (up to 100%) such as but not limited to:
raw materials (e.g. cofee beans),
finished products (e.g. cornflakes),
products during production (e.g. powder milk).
The PMV 50.5Y has been used in many industries, including the food, dairy and chemical industries. The device works well for measuring the moisture content of:
beef,
poultry,
pork,
sausage
processed meat,
mustard,
crisps,
tomato paste,
ice cream mix;
milk,
cream,
yoghurt,
natural cheese,
processed cheese,
condensed milk,
dried whey;
industrial chemicals,
cleaning agents,
washing detergents,
glues,
resin,
creams,
cosmetics.
Terminal 5Y's Role in Microwave Drying
The 5Y terminal has provided the PMV microwave moisture analyzer with new functionalities, such as:
10-inch display,
Digital Weighing Auditor (DWA),
uncompromised user verification,
Ambient Light,
hotspot,
RFID,
Live Note voice and text notes,
voice commands for the device,
measurement history within the Handy Library,
widgets.
Do you have any questions? Something you don't know? Our specialist will be happy to clear your doubts.